This May, Google invited Ideal Positions to enter the First Annual Premier Partners Awards.  This contest of the best advertisers in the world would be segmented into several different categories, and go through several rounds of judging to find the Best of the Best.  We pushed hard to meet the deadline- staff members pitched in to write essays, develop case studies, shoot video, etc…     Today we learned that we made it to the shortlist!  Ideal Positions is 1 of only 5 agencies in the US and Canada in the running to win the category of "Growing Businesses Online". Of all the agencies in the world, Ideal Positions is 1 out of 95 agencies who made the shortlist. That's really something!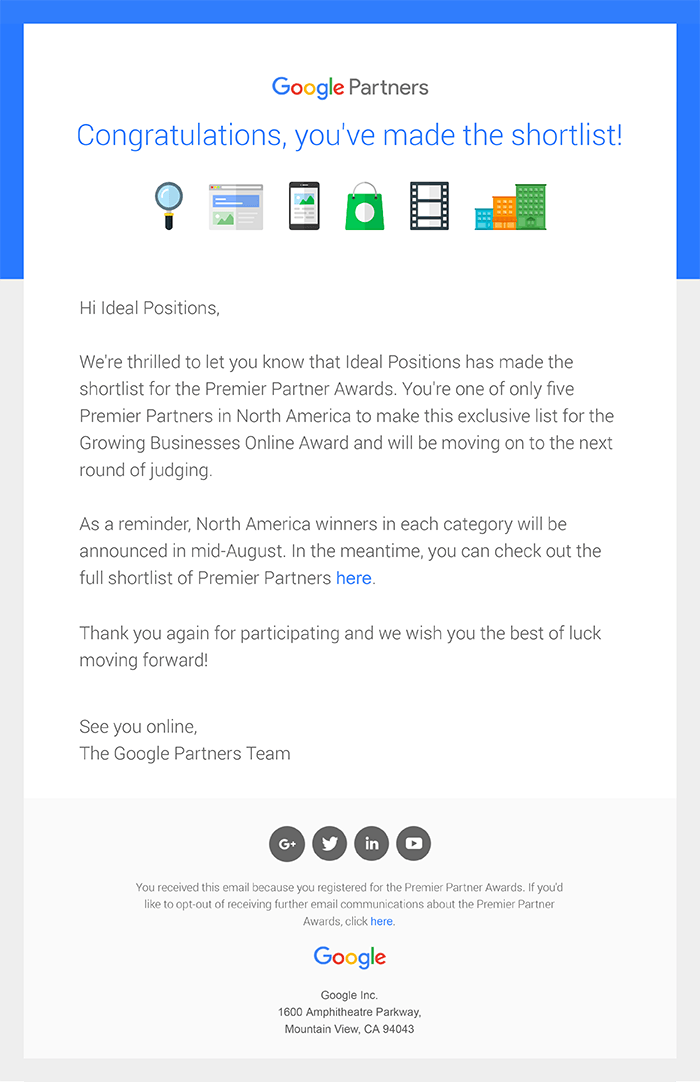 Below is one of the 6 essays written for the contest. We think you'll agree, Ideal Positions has what it takes! We find out by late August if we have made it through to the next round.
_______________
An online advertising agency doesn't thrive for 13 years in this industry just by being adequate. Ideal Positions is something special. We've been able to anticipate and adapt to changes with ease and stability. One of the biggest things that supports this and what keeps us different than the rest is our sincere desire to do right by our employees and our clients. We hear a lot of horror stories from clients about their previous experience with other agencies, and we feel a sense of pride knowing that we're going to do our best by them and operate with transparency and integrity, be helping them to grow their business and be successful.
We have many stories of clients who came to us ready to close their businesses and decided to try advertising with us as a last attempt to keep their doors open. There's a surfing instructor in Santa Monica, CA who was going to give up and move his family across the state to live with his parents and teach stand-up paddleboard lessons on a small lake in an underpopulated area. We convinced him to try our service, and starting with a very small budget, we were able to bring him enough clients to keep his business in Santa Monica and then grow it enough to allow his wife to start her own Children's Event business (which we also advertised for)!  There's also the electrician in Texas who was working for himself, gave us a chance and soon was able to hire additional help, buy more trucks, expand to service other cities, and continues to grow! Another is a father and son Law Firm, also in Texas, who were about to close their doors, but through working with us for several years, were able to open several other offices, hire many additional lawyers, expand their practice areas from bankruptcy, to family, and also criminal law, and even expand into other areas of advertising such as television and radio.
Ideal Positions' employees try harder. Maintaining an employee base with over 60% having been with the company more than 6 years allows us to provide a level of service that other companies without that kind of employee tenure can't compete with. The teamwork and expertise that comes from years of experience watching both our accounts and the industry change and grow gives us an edge over our competition, which is reflected in our clients' success. This industry can be a challenging but exciting one, requiring flexibility and frequent adjustments- our staff are used to that, and thrive on it.
In our time as a small company, we've met the challenges brought by the evolution of
Google's advertising platforms head-on.  As a company that does all of our work by hand, by our employees, and doesn't outsource any of our account structuring, optimization, copy-writing, bid management, etc., it takes us more time to adapt to Google's changes. We put in the extra blood, sweat, tears, and hours, so that we can be confident that the service we've provided our clients has been executed by experts. Our clients appreciate this level of service, and in an age of automation, it makes a difference to many of them to know that a real human being is looking after the well-being of their business. Automation and the application of machine learning is important to move toward, but the current climate of small business is that the owners still want to know that there are real people they can trust who are running their accounts.
Ideal Positions' analysis of client acquisition and retention has shown that over 20% of new clients are actually returning clients. We feel this reinforces that we're doing something right. In an industry where the competition continues to grow year after year, knowing that clients keep coming back time and time again is a strong argument that Ideal Positions deserves the Growing Businesses Online Award.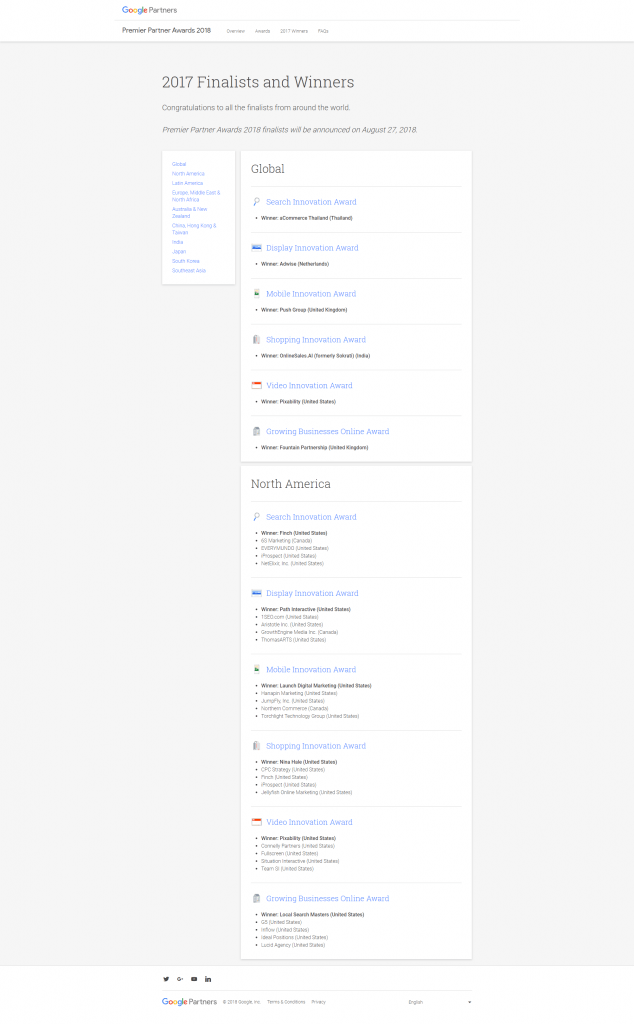 For more information check out our Facebook post!